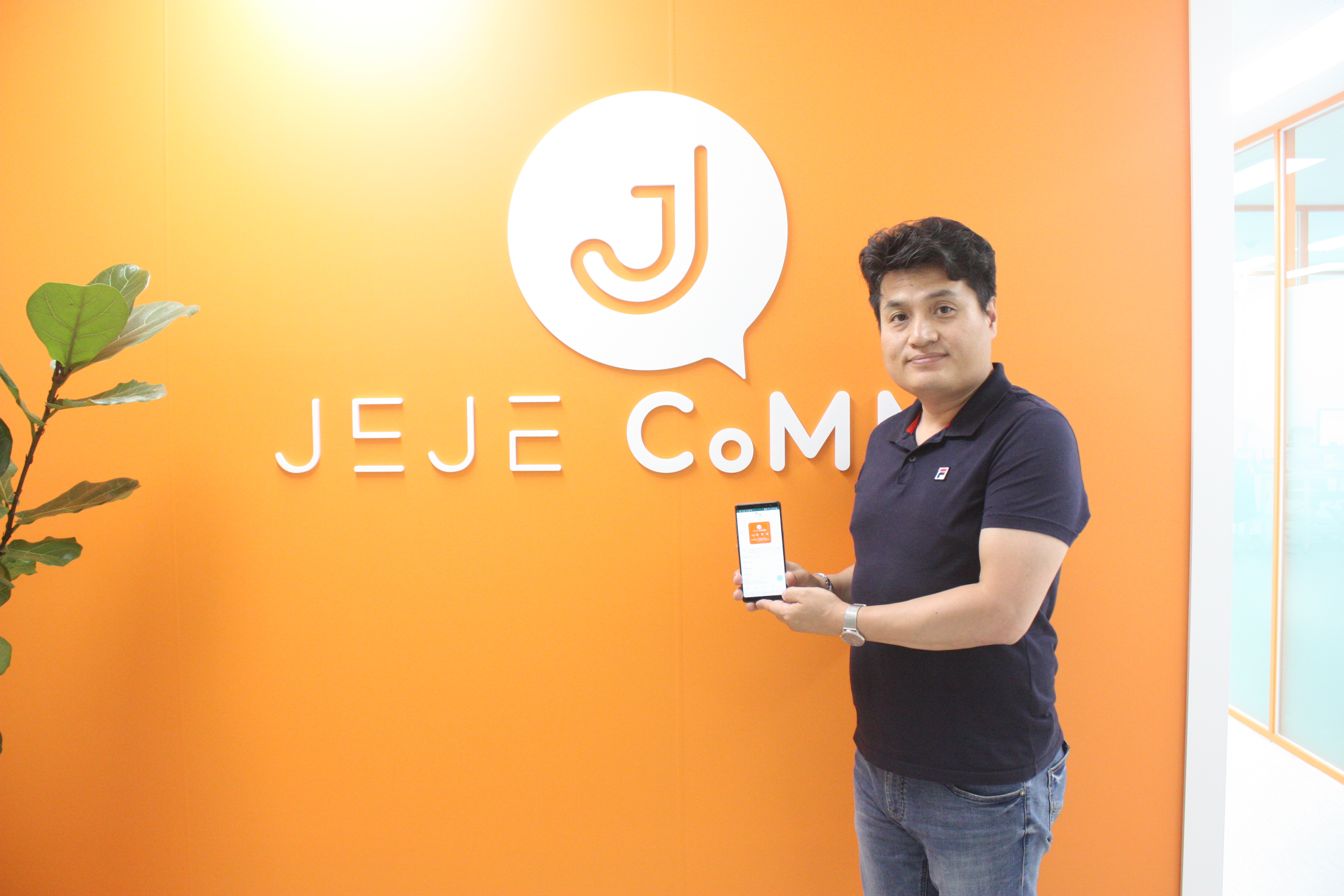 Good afternoon. I'm Kim Jun-gang, CEO of JEJE CoMMS Inc.

JEJE CoMMS Inc., is a related network solution venture company that connects people and businesses, connects people and stores, and aims to attach new values to social life and daily life through contents called mobile that are inseparable from people in real life.

The keyword of JEJE CoMMS Inc., is imagination, and we want to upgrade ourselves to the next level through Imagination+(Alpha. Product SHIFT is a global networking management integrated platform service based on mobile business cards using templates. It is a platform service that not only office workers but also students can easily make their own business cards and use them to form a diverse network globally.
(Mobile business card SHIFT www.shiftapp.net)

JEJE CoMMS Inc., will do its best to upgradepeople's lives through big data and AI.

Thank you.
Promise

People are the answer.
The employees of JEJE CoMMS Inc., will do their best today.
I will not lose my initial commitment 365 days a year with new resolutions.

Goal

JEJE CoMMS Inc., supports networking and management anywhere in the world with a mobile phone.
Relational network platforms, the ultimate in networking...SHIFT ! with various names!
Dreaming of such a day, I'll cheer up today.

Space

The starting point of JEJE CoMMS Inc.
Jump to a global unicorn company!!!
It's not enough, but it's a small leap forward to grow every year.

Communication

The world that we make together.
JEJE CoMMS Inc., wants to develop solutions that employees and customers can share and move forward.
The answer is always with us.
I'll think about it again today, and I'll try to make it more convenient for customers.

Location

Mecca of IT companies, Bundang Venture Town, Jungle ON.
JEJE CoMMS Inc., starts right here.
The last stop of JEJE CoMMS Inc., is in the customers' minds, so we are creating a new culture right here.
JEJE CoMMS Comunity
2022. 04. 22

Park Heesung, CEO of Global Military Metabus, who participated in the 2022 World IT Show and visited the JeJacomms booth

2022. 04. 22

Kwon Dong-ho, head of Herald Business, who participated in the 2022 World IT Show and visited Jeje Comms booth

2022. 03. 14

Kinemain's magician and director Ham Hyun-jin visited Kinstower, the new nest of JEJE CoMMs, on White Day. As an affiliate of SHIFT, you had an in-depth meeting about 22 years of business direction sharing and new development streaming platform. Thank you.

2021. 07. 02

Hong Yoon-sung, vice president of Burt Korea, visited our company for advice on attracting overseas investment and gave sincere advice on the direction of SHIFT. Thank you.

2021. 05. 20

Prior to SHIFT's full-fledged overseas expansion, Tak Dong-hyuk, head of the Suwon Chamber of Commerce and Industry, and Kim Kyung-yong, CEO of Wisol Patent Corporation, helped proceed with the ip Narae project.

2021. 03. 24

Jang Dong-hyun, CEO of E-room D&B, visited the company and listened to SHIFT's functional description and usability, and promised to utilize 1,000%. Changes from analog to digital SHIFT are accompanied.

2021. 03. 11

Director Son Young-sun of Kinemaine and General Manager Ham Hyun-jin. After working on the last promotional video of Cho Young-koo, he showed magic to the employees and gave them valuable time to develop SHIFT. Thank you.

2021. 02. 03

CEO Lee Je-sik of Midam Books, who is hosting the company's design consulting and introducing SHIFT in-house.

2020. 12. 07

Actor Lee Do-kyung (real name, Lee Seung-yeon) falls in love with mobile business card SHIFT. You promised a lot of use and promotion.

2020. 12. 07

Cho Young-gu, a popular broadcaster, continues to admire SHIFT's groundbreaking service and is leading the way in using and promoting SHIFT.

2020. 12. 07

Comedian Jung Chan-min, who is on a popular flight with voice phishing in the Yellow Sea at Gag Concert. He said he would take the lead in using celebrities' mobile business cards and promoted it to the best.

2020. 11. 30

We talked about the pleasant and informative evolution of SHIFT with Kim Jae-hwa, the director of the Kim Jae-hwa UMUS Peach Research Institute.

2020. 08. 21

Mentor Lee In-hong and Dankook University Park Jae-cheon visited to support management advisory mentoring services. I need to have four more meetings in the future.. cheer up. Thank you.

2020. 07. 15

We held a global marketing meeting with Inwoo Technology Director Ahn Byung-kyu and established a direction through export vouchers.

2020. 07. 07

Inobiz Lim Jung-kook Inc. who visited for a meeting to introduce and utilize in-house corporate services.

2019. 11. 07

Yuri Ji, a reporter of Gyeonggido Job Foundation, visited for interview about our company.

2019. 10. 18

Nahyun Ryu, a producer, visited for 'MTN Shin Young-il's BIZINFO PLUS' broadcast shootings.

2019. 09. 26

Junghoon Kim, a Dong Seoul University professor and a technical advisor of SHIFT, visited for business meeting.

2019. 09. 05

Woo-eun Jun, a manager of Infobank's Bizmessage team, visited for business meeting with our R&D team.

2019. 08. 26

Kyungmi Lee, a mentor of startup mentoring support service by SNIP, visited for us.

2019. 08 .08

Met Reporter Jaekwon Sohn and Seongnam Mayor Soomi Eun at the forum sponsored by SNIP.

2019. 05. 27

The film crew of Asiaetv(Paxetv) visited for 'Close-up Corporate Site' broadcast shootings.
MORE
shiftapp.net